'Chapungu: Nature, Man and Myth'
By Jim Merk
May 2, 2007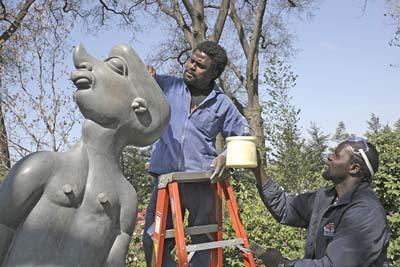 Artist Collen Nyanhongo (left) helps his brother, Gedion Nyanhongo, prepare a sculpture for viewing in the exhibit "Chapungu: Nature, Man and Myth," at the Missouri Botanical Garden. "Rhino Man" was made of serpentine by artist Bernard Matemera, who died in 2002.
The everyday people, creatures of legend and animals of Zimbabwe come to life in "Chapungu: Nature, Man and Myth," an exhibit that opened Saturday at the Missouri Botanical Garden.
The exhibit, consisting of 23 monumental, hand-carved sculptures by 19 African artists, will be on display in much of the garden through Oct. 31.
All but one of the sculptures is different from those in a similar exhibition, "Chapungu: Custom and Legend, A Culture in Stone," a major exhibition that made its U.S. debut at the Garden in 2001.
The one statue that was in both exhibitions was "Chief Consults with Chapungu," a powerful opal stone sculpture by the late artist Biggie Kapeta; it stands in front of the garden's Ridgway Center. Many of the artists who did sculptures for the 2001 exhibition also contributed works for this one.
Chapungu (pronounced Cha-POONG-goo) is based on the Beteleur Eagle, a powerful bird of prey that can fly up to 300 miles in a day at 30 to 50 miles an hour. The Shona people of Zimbabwe believe that the Chapungu bird is a messenger of the gods and a good omen that brings protection and good fortune.
Bringing the exhibit to St. Louis is Roy Guthrie, curator of the Chapungu Sculpture Park in Loveland, Colo. A native of Zimbabwe, Guthrie now lives in Loveland. He has 38 years' experience in his field.
Sculptures are a fairly new thing for Zimbabwe and started around 50 years ago, Guthrie said.
"We were a country described as 'artistically barren' in terms of the visual arts," Guthrie said. There were fine crafts, though, he said.
Then the artwork erupted.
About 50 years ago, the first director of the new national gallery in Zimbabwe (then called Southern Rhodesia) encouraged local people to create art. With that, a boom in stone carving started.
Many of the sculptors would start in a style and continue in it without stopping, Guthrie said. "It seemed almost as though they had a predetermined style," he said.
While there are about 400 to 500 good sculptors in Zimbabwe, about 50 of them are considered of international recognition and standards, Guthrie said.
"It's from those people that we choose the sculptures for these exhibitions," Guthrie said. "They are as committed as any artistic group in the world and create wonderful work."
The exhibit is trying to show the relationship between the traditional African family and nature and the myths and legends that rise out of that association, Guthrie said.
The sculpture "Chief Consults With Chapungu" deals with the fact that the chief, as the head of society, has a duty to solve problems. In the sculpture, the chief has a difficult problem and goes to consult with Chapungu.
In working with the stone, the artists from Zimbabwe don't consider it inanimate or dead, Guthrie said.
The sculptures weigh about a half-ton to four tons. The total weight for all of them was about 70,000 pounds, Guthrie said. They were brought in on two flatbed trucks.
The entire exhibition is included with the price of admission.
From 5 to 9 p.m. Thursdays from May 3 to Sept. 27, "Chapungu Nights" will feature music and entertainment. People can watch an artist chisel stone into sculpture in Linnean Plaza, dine on the Sassafras café patio and sip cocktails on Spoehner Plaza. Admission is $10 ($5 for garden members), with additional charges for food and beverages.
People can create an original sculpture guided by a Chapungu artist-in-residence during five-day workshops held Tuesday through Saturday on the Linnean Plaza. No experience is required. The $500 fee includes a sculpting stone from Zimbabwe, a set of tools to keep and instructions by prominent Zimbabwean artists.